I don't know what happened.
This sweater happened in kind of a blur. One minute it looked like this: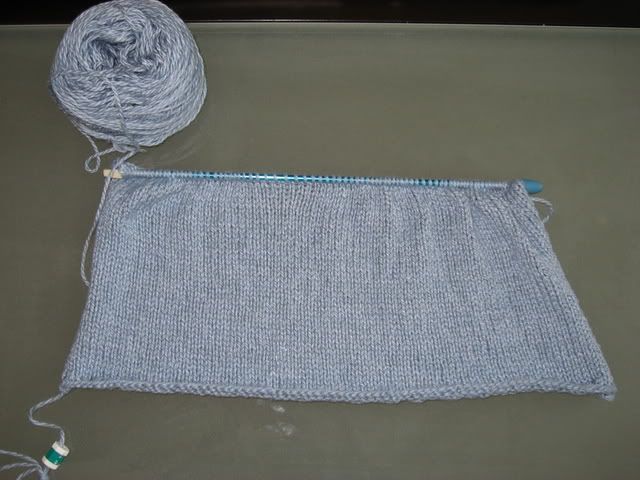 A week later it looked like this: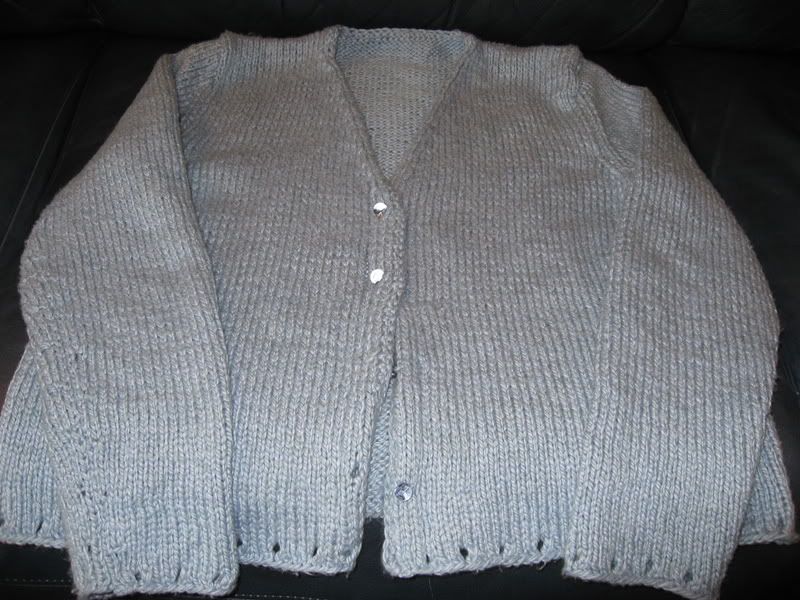 Pattern
: FREE from Tahki Stacey Charles- A-Line Cardigan (
Link
)
Yarn
: Misti Alpaca Pima Cotton Silk Color N314
Needles: US size 8

I sort of fell in love with this yarn at a yarn sale. I walked by it several times, and every time I caressed it, I thought more and more what it would feel like to wear it. I dreamed of being chilly on a spring day and using this yarn as a cardigan to throw over myself to warm me up. I finally caved and bought the two remaining skeins, and was able to order the same dyelot from
WEBS
. I used about 4 and a half skeins on the project and have a remaining 3 skeins I'm not quite sure what to do with yet. (Perhaps donate it to my mother-in-law?) An even bigger bonus for me was the fact that the yarn came in hanks, and I got to wind it up into pretty balls using my beloved yarn winder. Happiness thy name is "swift and ball winder".
Thoughts on the Yarn: It's soft. Really soft. The silk in the fiber just gives it this lovely dimention of softness, making you want to run your hands through it over and over. Knitting it up was slightly less impressive however. There is a fuzz with this yarn that gets on EVERYTHING. Blue fuzz on my pants, blue fuzz on my shirts, on the floor, on the couch, on the pillows, on the towels I used to block the sweater. Blue fuzz EVERYWHERE. Even after blocking- blue fuzz.
Thoughts on the Patten: It's deceiving. I thought I was making an A-line cardigan, instead I made just a v-neck cardigan, and I don't really feel it was my error that caused this. I'm still pleased with the final product, but ever so slightly disappointed since I thought the pattern looked pretty cool. I'm definately getting better at seaming up a garmet, however I'm not pleased with the seams on the shoulder and to the back. (Not pictured) There is still is an essence of the "home-made" in this. Mind you, I'm definately going to wear this sweater, it looks LOADS better than my first ever attempt at a sweater.
I've included a picture of me wearing the sweater, since one of my pet peeves is people who show pictures of their sweaters, but not how it looks on. You'll note that I hate having my picture taken for no apparent reason other than to model... but it gives you an idea of the finished product.