Um? Holy crap... I finished another pair of socks!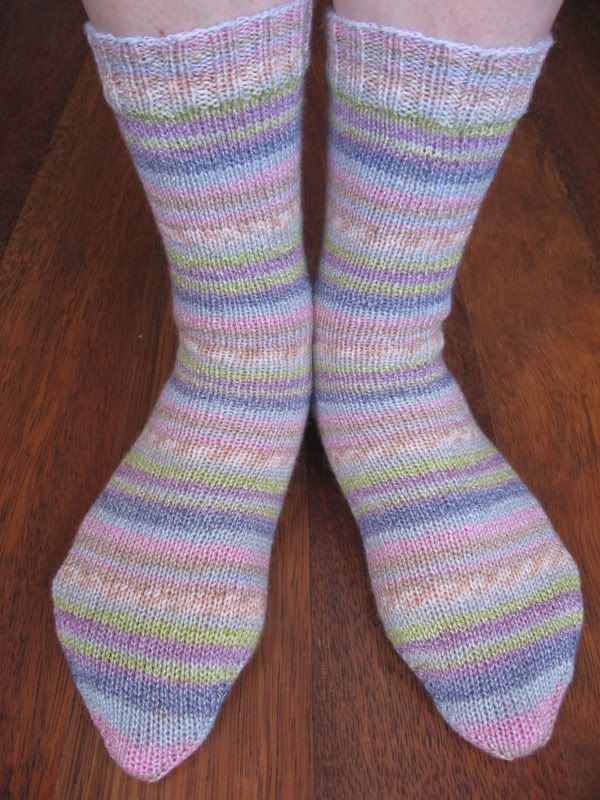 Sock #3 for the Summer of Socks completed and off the needles. These were supposed to be my break from the mind bending "Marilinda socks" that are on hold until my Loopy order arrives. (The less said about how long the Canadian customs folks take to clear my yarn, the better....) I'm going to need another brain breather when those eventually get on the needles! (Good thing I have three more skeins of self striping yarn!)
Pattern:
Yarn Harlot
's Basic Sock Pattern
Needles:
US 1
Yarn:
Online Supersocke Cotton Beach Color 83
Thoughts:
There is something inherently satisfying seeing the stripes "magically" appear while you knit them. Self striping sock yarns are fabu simply because they make your project look 20 times harder than it actually is! I'm not loving the yarn so much, very splitty, but it's kind of an ends to a mean thing- sometimes you suffer through less than stellar yarn for it's results. Let's look at them again shall we? Oooooo....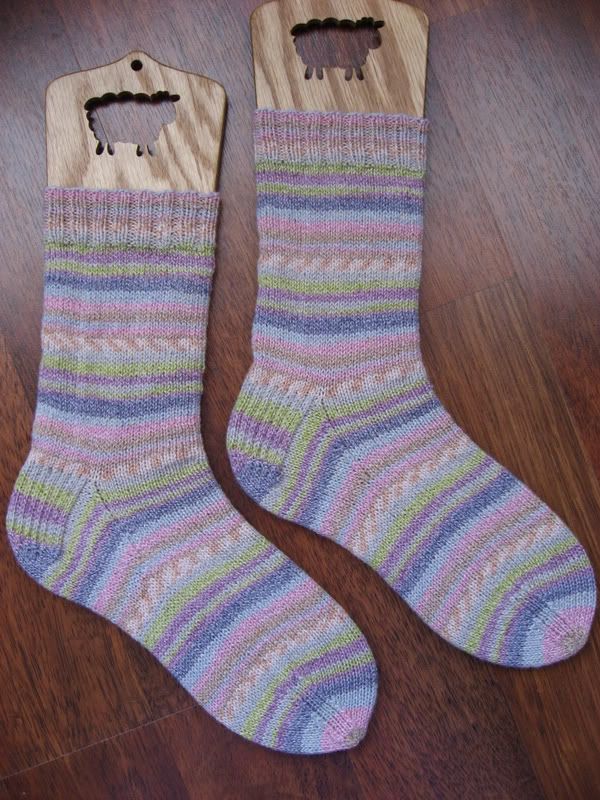 I'm especially proud of the way I was careful to line up the stripes on the sock. Special attention needs to be paid when you knitting if you like matching socks, something I'm rather anal retentive about. Check out how closely the stripes line up on the socks: (the picture below best illustrates the line matching..)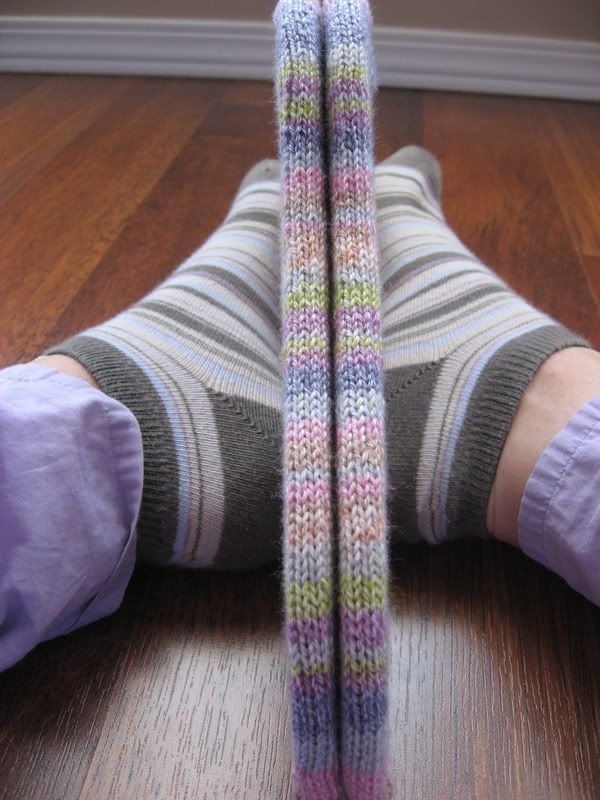 Yeah. I'm good.
I've also been fiddling around with a few mindless project ideas for my Breast Cancer run team this October. I'd like to make something for the people who choose to run, or walk in my case, on my Run for a Cure team- and I'm experimenting with a few ideas. Idea number one... please forgive me, this is the first time I've ever attempted duplicate stitch, so this is a project that can be improved upon.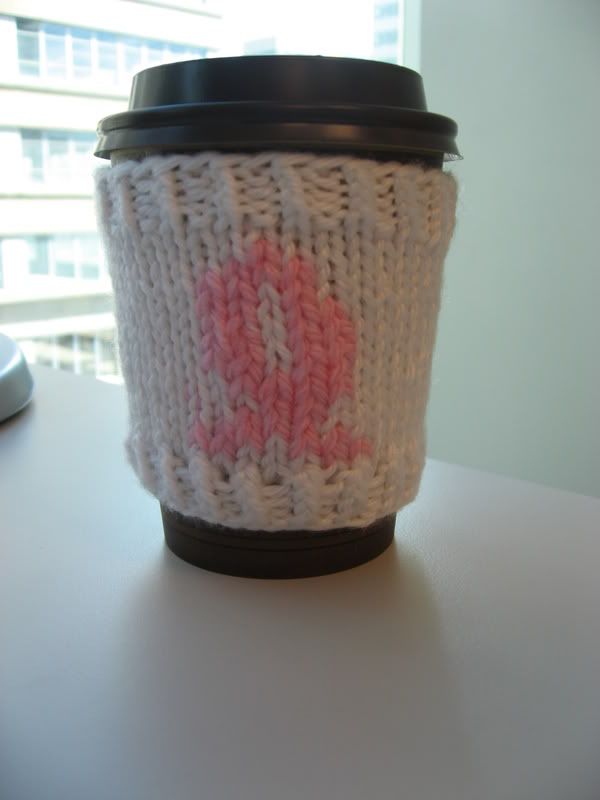 It took me about an hour and half to knit this little coffee sleeve. I could probably grind these out pretty quickly at the last minute, (when I tend to save things to), but am I going to feel satisfied giving these to everyone? Or, can I do more? (Says the girl who is woefully behind the baby hats she needs to have knitted to be on track for 52... not to mention the socks she plans to knit for the knitting retreat.)
Otherwise I managed to survive two major knitting events this week:
1) The Make 1 Sale, which I decided not to attend, no matter how badly I wanted to go. I've decided that I'm weak to a good deal on yarn, and don't always buy what I necessarily need. In my effort to respect the stash management, I opted to not go, and instead reward myself with a Loopy order if I continue to wittle away at the stash this summer. Oh please knit gods let my "Rainbow Black" yarn still be there when I allow myself to "fall off the wagon" again.
2) I surived the great Ravelry server crash of July 08, furthmore known here as SUNDAY BLOODY SUNDAY. This may not be a big deal to you, but my favorite yarn, pattern and overall knitting database wasn't working properly and I was practically frantic about it coming back so I could download a pattern. Ravelry has changed the life of most knitters, and I'm a full blown addict. So many knitters are relying on Ravelry to store their new patterns that they aren't posting their patterns to their blogs anymore, only to Ravelry for a free dowload. Imagine my horror when I finished a sock and couldn't download the next pattern I was going to knit. I was frantic, I was pacing, I was updating the husband every 20 minutes on the status as if he cared, (*gasp* I don't think he did... what kind of heartless person did I marry?!) and ultimately was forced to go and knit something I had kind of abandoned on the needles. (Hello pink sweater...)
While the crash had my fingers itching to get back on to the site to see if I missed anything, it was good to get re-focused on the sweater... enough so that I'm actually interested in knitting it again. So there you go- despite the SEVERE withdrawl symptoms I had from the website it actually forced me to go back and work on something and regain interest in it. So, at least some good came out of the devasting 10 hours Ravelry wasn't working properly. (Seriously though folks- don't let that happen again, I was breathing into a paper bag and overall trying to not hypervenilate over the whole thing. An addict of this degree should never be forced to quit for that long at a time!)
So- as you can tell, it's been a busy week over here... and I need to get back to my knitting.