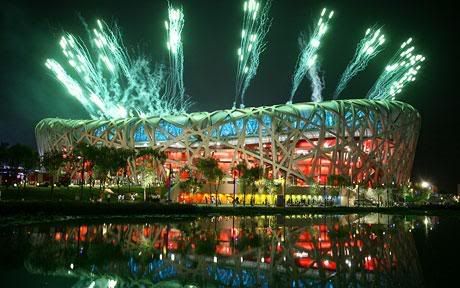 (This is obviously not my photograph- but it belongs to
these
lovely people)
Nothing kicks off an olympic start quite like fireworks! Day 1 of my official Olympic quest saw some good knitting action! (You'll note I'm using new Addi Turbo double pointed needles and OH MY do I love them!)
My goal is to have sock one done around Wed- I better hear some cheering to motivate!! The pattern is challenging, (whoo boy challenging!) it's definately a "knit alone" type of project, because any distraction, including conversation would probably result in a pretty grevious error!
I thought I'd also update you on the sock project of my "travel" sock. My travel sock is a sock I keep in my purse that usually gets dragged to work and various other locales... progress tends to be slower since I really only knit on them when time permits or over lunch hours, but they're starting to come along nicely.

I appreciate that it's kind of funny I'm knitting two projects with blue yarn right now - but not to worry, both are a pleasure to knit with. I'm using the Dream in Color Smooshy for my Olympic sock and the ShiBuiKnits and both yarns have a lovely "sproigy-ness" that makes knitting them a very pleasant process.
I've also had a bit of a falling down (HARD) on the old yarn diet.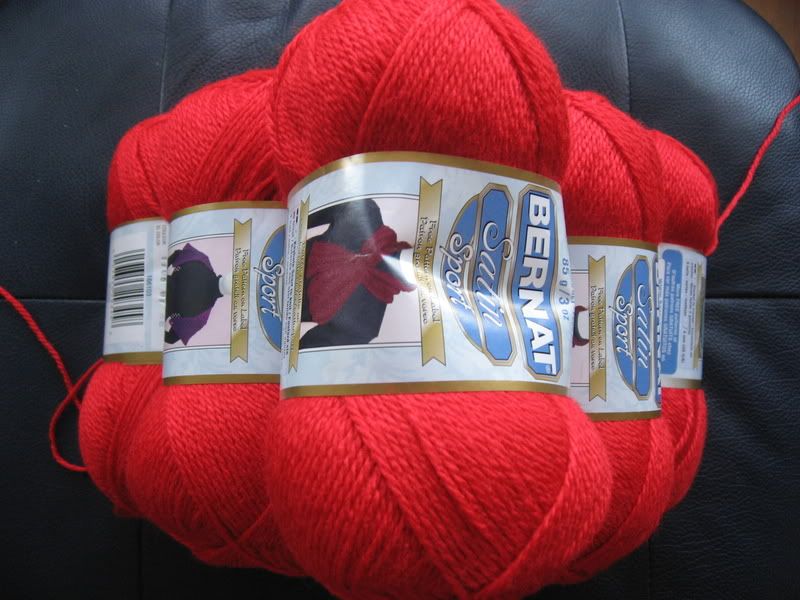 This red Bernat acrylic (ack!) is destined for baby blanket stardom. I'm currently designing a top secret project for some friends and that's going to be the color. Curious? I can justify this addition to the stash because I know I'm going to use it fairly soon.
This stash acquisition, (the softest bamboo ever!) This is Kertzer's "On Your Toes" and I can't really explain how I ended up buying it. I blame mob mentality.
You see I went to the Make 1 Friday afternoon knitting, and this was being stacked on the shelves while I was there- the minute it hit the floor the ladies were on this like white on rice! Caught with the concern that I would be left out of a really great yarn deal, ($11.97 skein!) both the MiL took our pick of the colors before everything got scooped up. I couldn't help my self! It was SO soft. I had to have it. HAD TO. Okay!? Stop looking at me like that!
Okay- well I need to get back to work on the Olympic sock- much to do before the time is up! Socks don't knit themselves!