In what has accidently become the BEST. TRADITION. EVER. the Mother in Law and I set out on Boxing day (26) and the day after to do our annual yarn saling. As a child I lived for Christmas morning, but as I got older- I found the anticipation waning. I feel like a kid again as I count down to the yarnie deals on the 26th.
First we headed over to
Make 1 Yarn Studio
- for it's annual Boxing day blowout. We waited in line in the cold, along with fellow obsessed knitters with a couple familiar faces. (Hi Viv! Hi Mary!) This year we were to the back of the line and didn't get a chance to pummel the yarn grab bags. MIL walked away with some lovely
Art Yarns
Sock yarn- yet I was surprisingly restrained and purchased
nothing
. (I'm kicking myself for not bringing the camera to capture her purchases - just check out her Ravelry page in the next few days... she's "felicity".)
I suppose I should stop here and say quite frankly- I knew what I wanted to buy this year. I did my research and stored the info on my iphone. I also went in with a few rules. No sock yarn. NO exceptions. This was a sweater quantities only spree. I also had three sweaters on the list and I hoped to fill them- I was a lot more discerning customer than I've been in the past.
So with empty hands, we decided to check out
Knit One, Chat Too
's sale over on 17th. I was fully prepared to skip this one this year as last year's sale left me rather under-whelmed. However, with empty hands, and a relatively clear conscience, I felt we should head on over. AND THANK GOD WE DID. I found my first sweater's yarn- which I had decided I wanted to knit in the yarn that was recommended. Say hello to my new Classic Elite Cotton Bam Boo!!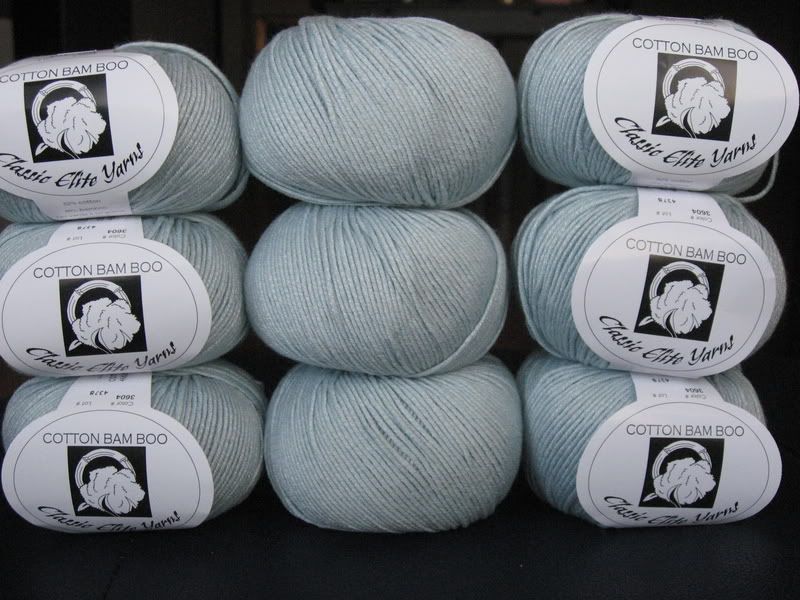 I'm going to attempt to knit Pam Allen's
Cotton Bam Boo Smock Top
(Rav Link) in this lovely shade this spring/summer. The pattern sizing called for 8 balls, but being ever the pessimist I bought a "safety skein" just in case I need more. Besides at 30% off the regular price it was a good deal. MIL also scored some baby yarn in the sale bins for all the baby things she's planning to make this year.
I could have probably happily stopped here- given that I was really excited about finding the exact yarn, for a great sale in a color I really liked. I was on a yarn high! But the promise of more yarn deals and the fact that I had a remaining $90 credit on my Pudding gift card couldn't keep me away.
Day two the MIL and my mother (a non knitter interested in yarn sale madness), schlepped over to Pudding to be the first in the store. We were the first in- but that little store filled up fast. MIL again, found some excellent finds in the sale bins, where I hmmmed and haaaaed- and was heavily tempted by Koigu. Ultimately I decided that I needed more information. So, after waiting for poor MIL in line for 30 minutes (not because it was busy but because the staff is woefully unfamiliar with the till), I left empty handed and we drove over to Gina Brown's.
Gina Brown's has been off both the MIL and my radar now. We went a long time ago and were rather disappointed by the selection. This time around we were awed- both by the line that stretched all the way around the store, but also by the selection she had. Gina's is BACK ON the radar! Ultimately we were scared away by the line- but we did wonder around, checking out the selection and mentally noting what was there. There were a couple of interesting things, including some baby bamboo that would have been a great substitution for the Classic Elite- so I guess if I decide to make two tops- I know where to go.
Deciding that I did want to buy at Pudding- we schlepped back there, where the store was a little less swamped. I grabbed some Noro Silk Garden- for the "everyone is doing it so I shall jump off the bridge with them" self striping scarf. (Rav Link)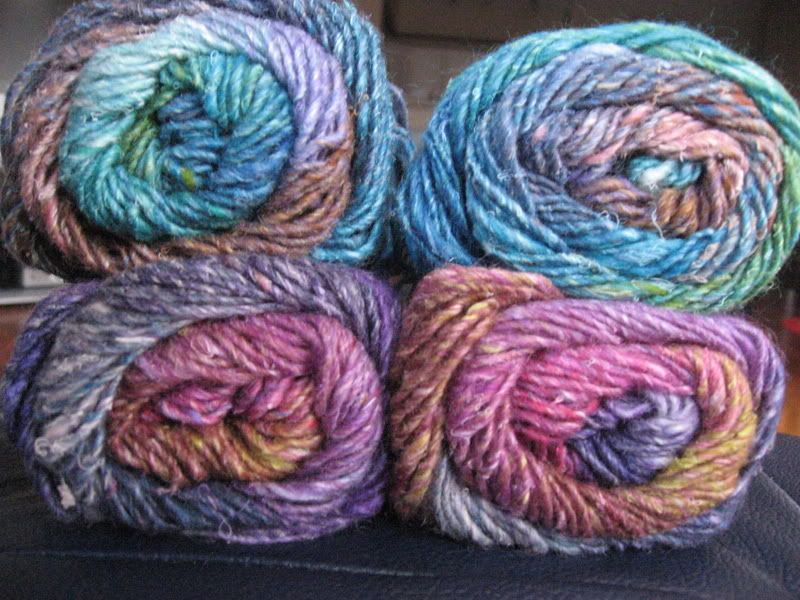 I know, I know.... it's not a sweater.... but I've been wanting to make this for some time- so really, there's no guilt. So don't even try! Plus- 20% is hard to argue with!!
I also decided to step outside my little knitter box and knit with a tweed yarn for one of my sweater projects. And so- justified the purchase of the Jo Sharp Silkroad Aran Tweed- perfect for my intended 28 Thirty.
The pattern calls for 600 yards- but I bought 700, again, just to be secure in the knowledge that I'm not going to have a catastrophic heart attack when I run out with 2 inches left to go on the sleeve. I don't know if I could recover from something like that! (yay 20% off!)
And that is what I bought. 2 days, 4 yarn shops and around $200 dollars later- I bought what will probably be my sweater stash for the year. I'm also patiently waiting for the Loopy Ewe to get their next batch of Malibrigo in, for one last sweater purchase. I'm hoping someone will shower me with Loopy gift certificates for my birthday this year, so that I can have a little falling down over there too! (I'm shameless- I know.)
Stay tuned to the blog for the year end round up and final 7 hats (Hopefully!!) as well as shots of the completed Snowbird mittens (Hopefully!), coming up in the next few days.