Three guesses...
1) Pink hands...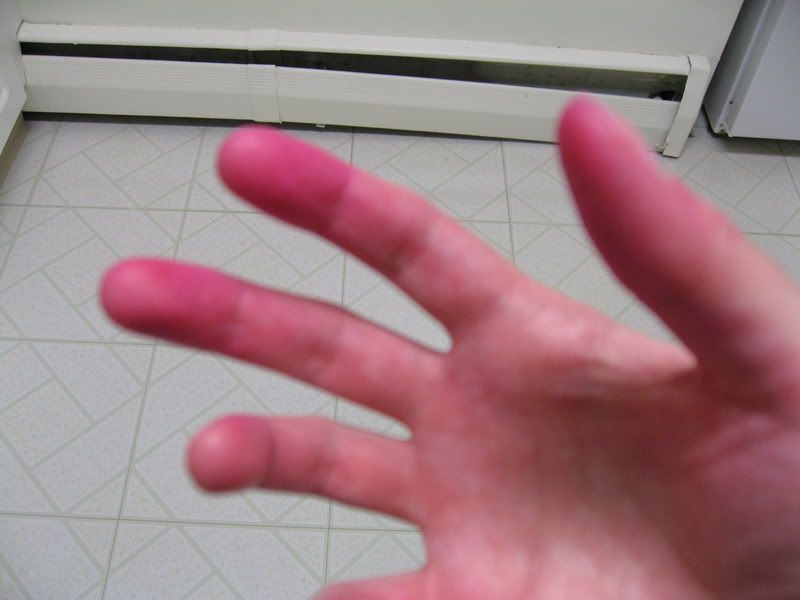 2) Lots of pretty colors (and a seriously potential for disaster should that at all spill)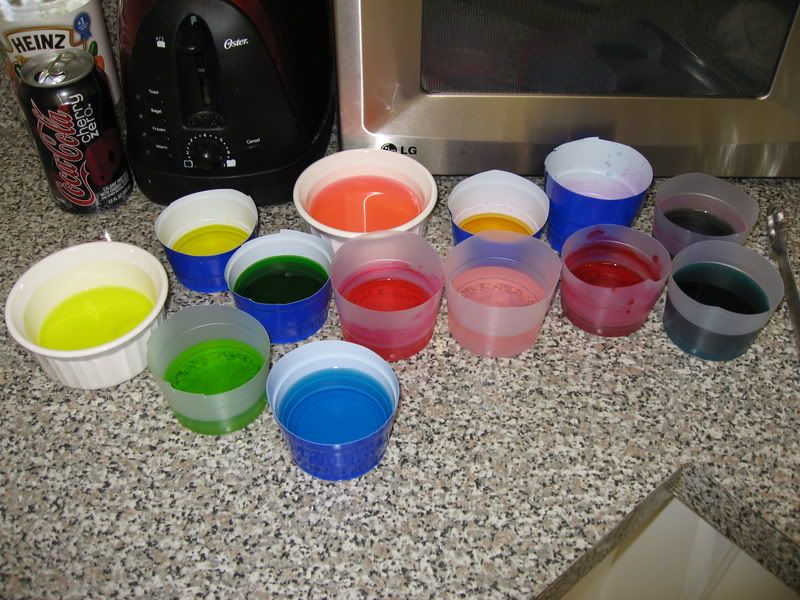 3) Samples!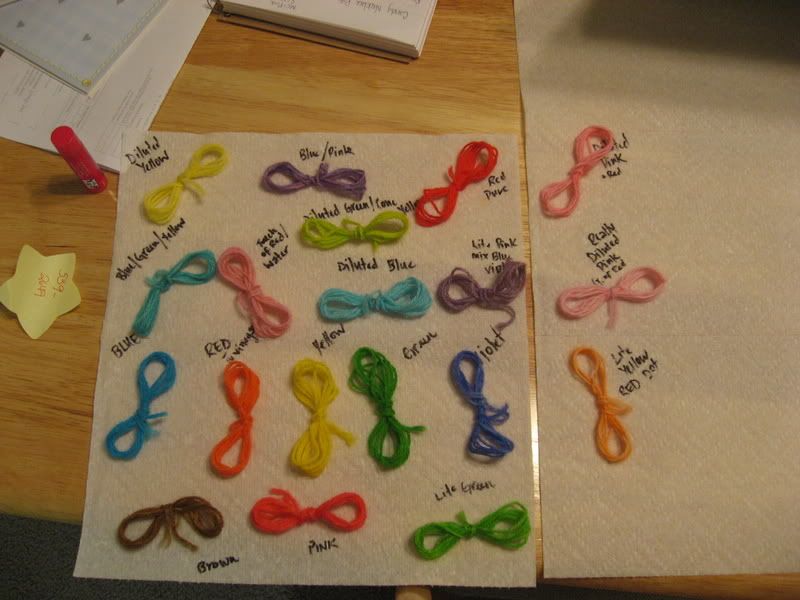 I feel like I'm the last person on earth to finally get around to attempting to hand dye some of my own yarn, but the yarn gods smiled upon me today and I finally decided it was now or never. Just this last week I've received my
Knit Picks
"Bare" superwash sock yarn. (I'm not going to risk felting on my first attempt at this.) And I've been doing a lot of reading on the internet about just how the heck I want to dye this stuff.

I figured I'd attempt Kool-Aid dyeing first, since it seemed like the easiest process. It turns out Kool-Aid dyeing is unbelievably hard these days... given that Kool Aid has decided to go with "Invisible" flavors.... meaning no colorful flavor crystals. I went to THREE grocery stores, TWO dollar stores and a WALMART and was only able to find the invisible variety of Kool Aid. YOU'RE RUINING MY LIFE KOOL AID!! Thankfully, I also remembered reading a little bit about Wilton Food Coloring dyeing, and decided to buy a kit for that instead. (Funny story-- I had a 40% one item in Joannes and was able to get the 8 color kit from Wilton for $4.)


Anyways, I got home, and got back to the internet to find out as much as I can about Wilton dyeing. It turns out there isn't a tonne out there... so when I do feel ready to dye my first skein, I'll be sure to capture it all for posterity!

I decided to start out with the Red dye... curious to see how it would look. (Mental note- a little goes a LOOOOOOOOOOOOOOOOONG way with the dyes... I'll probably never need to buy this dye again.) It turns out that red is a pretty ellusive color to get. My first red attempt is actually the orange skein you see here. I'm also guessing that despite taking this picture in florescent light you can't really see that essentially ALL of these "red" skeins are more orange. Anyone got suggestions on how to get a true red color?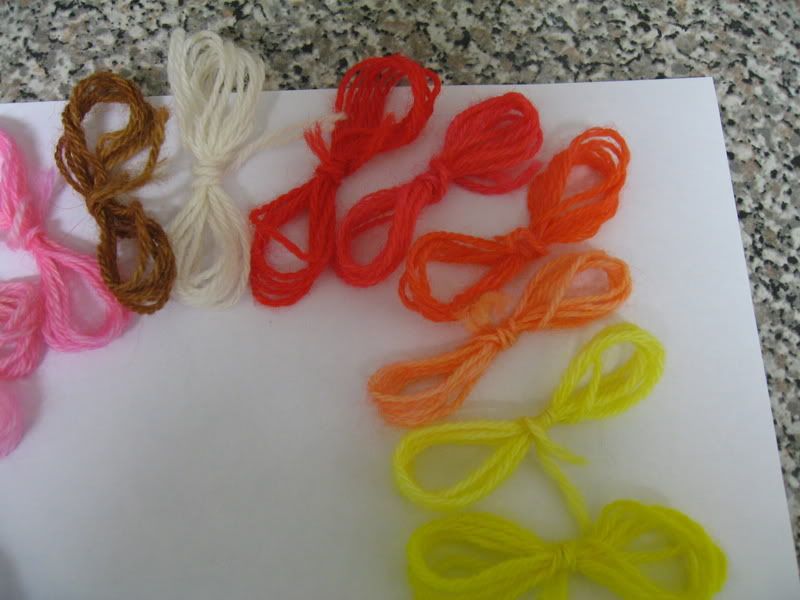 I actually really like the light orange shade here-- it reminds me of creamsicles.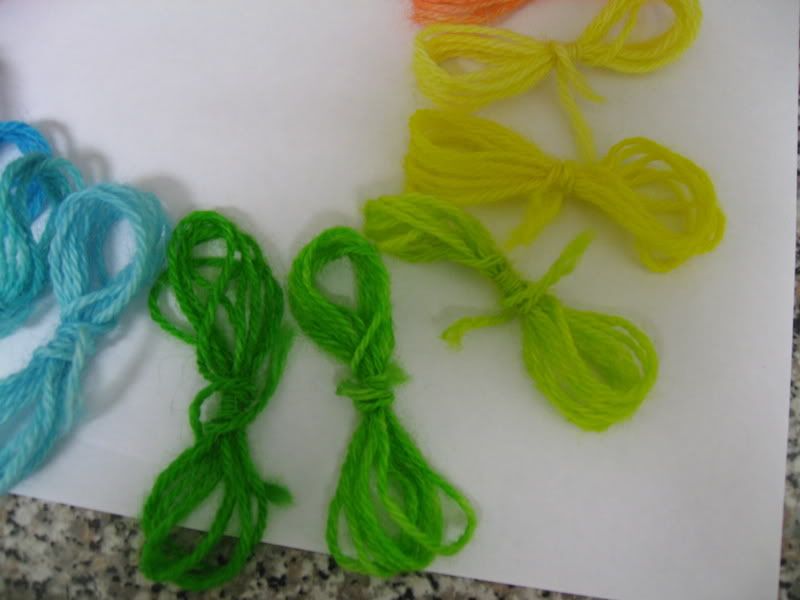 (I didn't actually do these colors in order... but I've decided to just stick to the color wheel.) Yellow was great-- I actually preferred the less saturated yellow skein. I'm also in love with the kelly green, (the one right next to the yellow) skein-- I mixed a very low concentration of green dye with several drops of high concentration yellow dye. It's a unique color.

I'm not terribly fond of the green colors-- only because I was trying for a more tealy, subtle green color and couldn't seem to achieve quite what I was attempting. Perhaps more practice in that department will achieve a better color to my taste.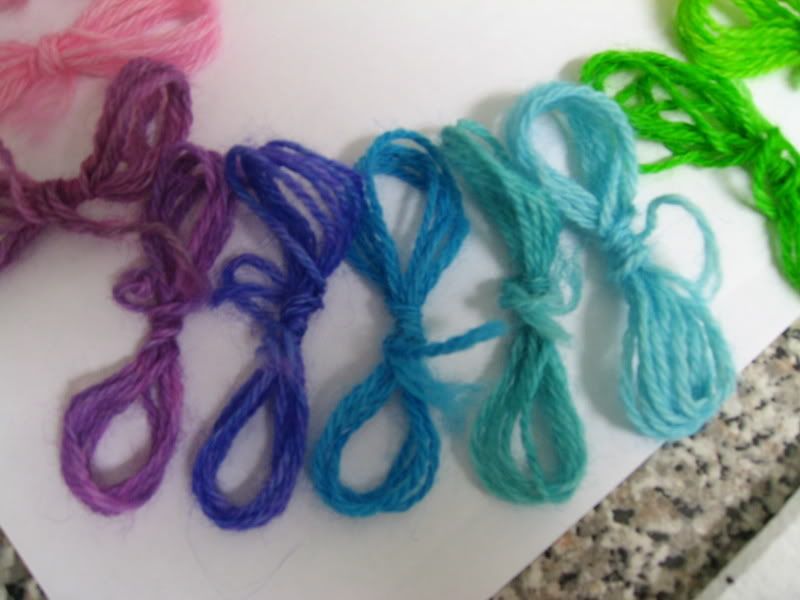 Oh the blues! I love the blues! Every since color of the blues I LOVE... so pretty, so bright... you're going to be seeing skeins with blue... I can tell you that right away. Thank heavens I was warned on the Knitty board about purple or violet, it doesn't seem to take very well to the yarn- otherwise I would have been very disappointed. The violet yarn comes out bluey and you can see redish hues throughout- it's not a very uniform purple color. The lighter purple color is one I mixed myself, using a small amount of blue concentrate with a high amount of red concentrate and a touch of pink. I'd say mixing the colors myself made things slightly better, but still, overally disappointed by it's ability to blend.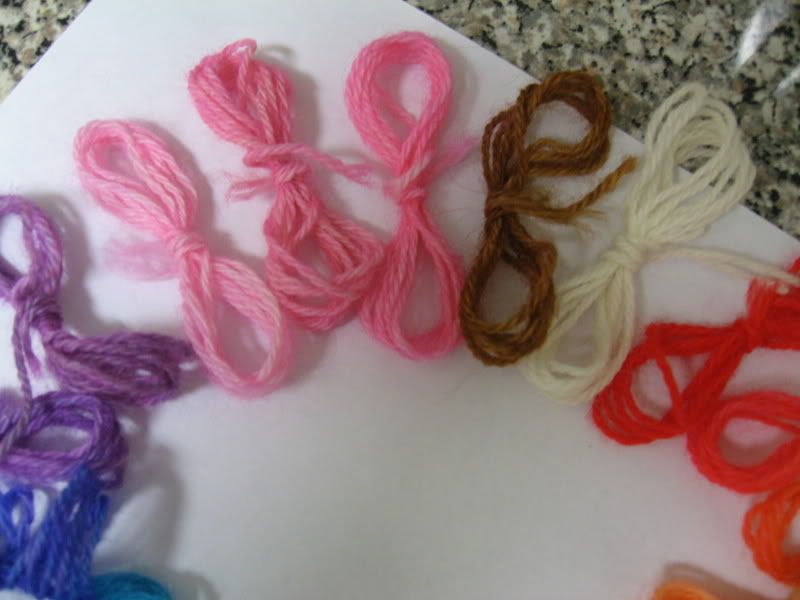 Pink! The less of the pink coloring I used, and the more diluted the solution got, the more I liked the final pink results. Actually looking at that pink and purple sitting next to each other, I may have to attempt that at some point huh? So pretty! Also pictured here is brown, which I was more curious to see, but "meh"-- I'm not a brown person. Pictured next to the brown is the alpaca, (a leftover skein I had) without any dyes... just so you get an idea of the color graduations here.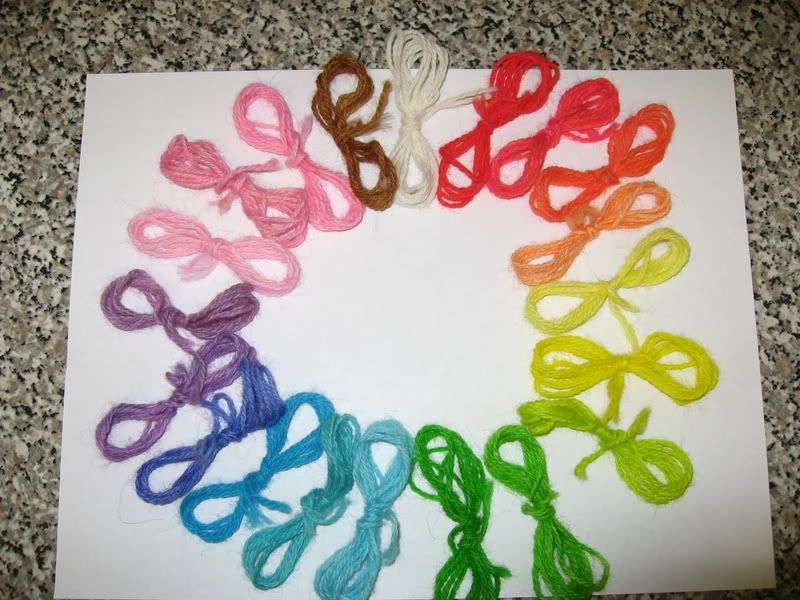 Look! I'm practically Purl Soho!!

My last dyeing experiment of the day was also the most perilous. I decided to attempt a mini skein, to get an idea about what I'll have to do for the main skein. First of all I learned to MAKE SURE YOUR STEAM WATER DISH IS CLEAN... there was a little pink dye that must have seeped out of the saran wrap while it baked and it got a little pink in some parts. I also learned that the kelly green and soft yellow, put close together, look essentially the same, so I may have to re-think that color combo. And, lesson #3 don't color all the way to the end, as the dye will bleed enough in the baking process to fill in the remaining white space.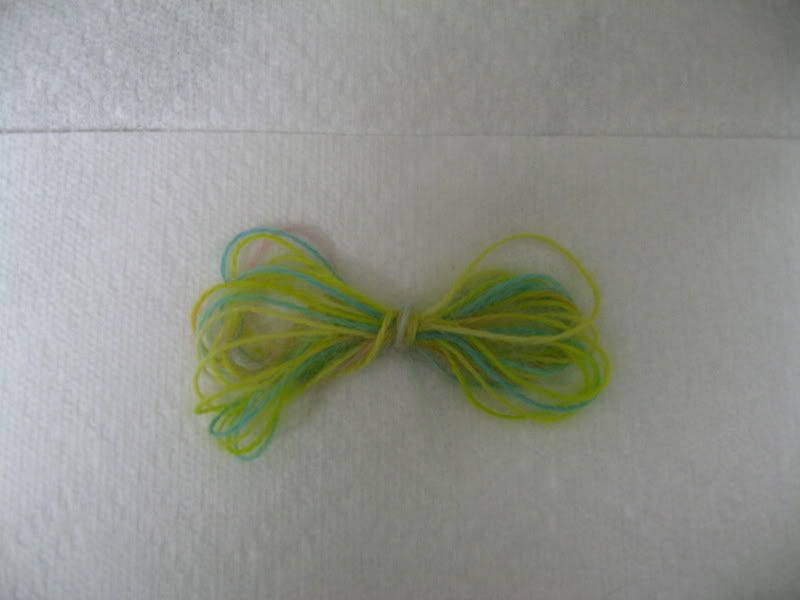 Viola... the blue is cute, the green and yellow need a little help.
If anything today was VERY informative and very fun! I'm planning on attempting another sample skein tomorrow, after soaking the wool in a vinegar solution over night-- hopefully by this Sunday, I'll be feeling confident enough to dye my actual main skein! Stay tuned!