It's been pretty quiet around here lately. The radio silence is mostly due to the move into my Condo (SQUEE!!) but also due to my rather "blah" feeling about knitting anything lately. Perhaps it's just because I've knit too many socks recently, or I've all but given up on the Nennie Sweater design, or that my spiral eyelet socks cause me more grief than joy, but I've been unmotivated to knit. I DID knit a hat on Sunday, that little project is still like "knitting crack" for me, but I'm really ready for something to sink my teeth into. Something that takes a little time, something that I can wear when it's finished.
Enter motivation.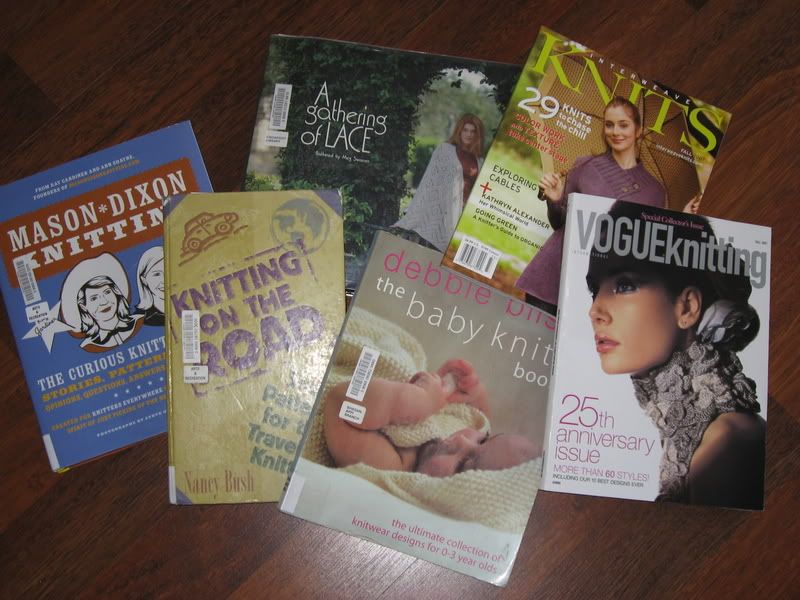 No, I did not go on a book buying spree, my MiL got a whole bunch of books from the library that I had been wanting to check out. (Note to family: Mason Dixon and Baby Knits may now appear on the Christmas list... and I know where you can get a copy of Baby Knits, in mint condition used for a lot less.) What I love about getting these books from the library is that I can really spend some quality time in them before I decide they need to be apart of MY knitting library. The baby knits has an aboslutely complex and gorgeous alphabet baby blanket that I am feeling rather compelled to knit, although I'm thinking it could turn into the "More Than I Could Chew Part 2" project. (And therefore increases the liklihood that I won't be able to give it away.)
Then today, needing a little outing and feeling like a yarn shop was in order, I walked over to Pudding Yarns, (FOUR GLORIOUS, and short, BLOCKS AWAY), and got my grubby little paws on the new Interweave Knits and Vogue Knitting issues for fall. And then, out of NO WHERE... I'M DESPERATE to start a project from them.
DESPERATE. Like maybe contemplating an online yarn order right now. Like maybe have the credit card out and trying to give myself 20 minutes to really think this through before I totally buy more yarn.
See for yourself:
Cabled cardigans! And that purple coat is BEGGING me to knit it. (That may or not be on the needles soon, depending on my online shopping....) I went from knitting "blah" to knitting "HOLY CRAP I MUST MAKE THAT NOW OR I MAY POSSIBLY DIE TRYING TO LIVE WITHOUT OUT IT". Interweave especially is loaded with at least FIVE sweaters I want to make. FIVE. I regularly buy a magazine if they have one pattern I like, but FIVE!? I am so motivated to knit RIGHT NOW that I think I might have to lie down, just to get over the excitment a little.