As mentioned here several times, my mother-in-law was here this past week for a visit. While the main purpose of the visit was to see her son graduate from Yale (have I bragged enough about this yet?), I was also tempting her with and promising a major yarn crawl given that Connecticut's unoffical motto is "HOME OF THE YARN STORES". Not only was I able to promise a yarn crawl of mind blowing extravagence, but then
WEBS
announced that the
Harlot
was coming and I knew that this talk would be a great end to a yarn filled week.
In New York we managed to show restraint, especially in the prescense of cheap cashmere at
School Products
. At
Purl
, I only bought one colorway of Koigu, (which let's face it, is RESTRAINT of a particularly strong moral fiber given the selection there) and while we succumbed to the yummy looking cookies at
The Point
, we didn't succumb to the yarn. All in all, our mini-crawl in NYC on Saturday was a great "starter" for our main day on Tuesday.
We started out early on Tuesday since I hoped to cover a lot of ground. Our first stop was at the illustrious
Yarn Barn
(gah! I just opened that website to find out there's a 50% off sale on June 16th... may have to go!) whose selection is vast, but their organization is not.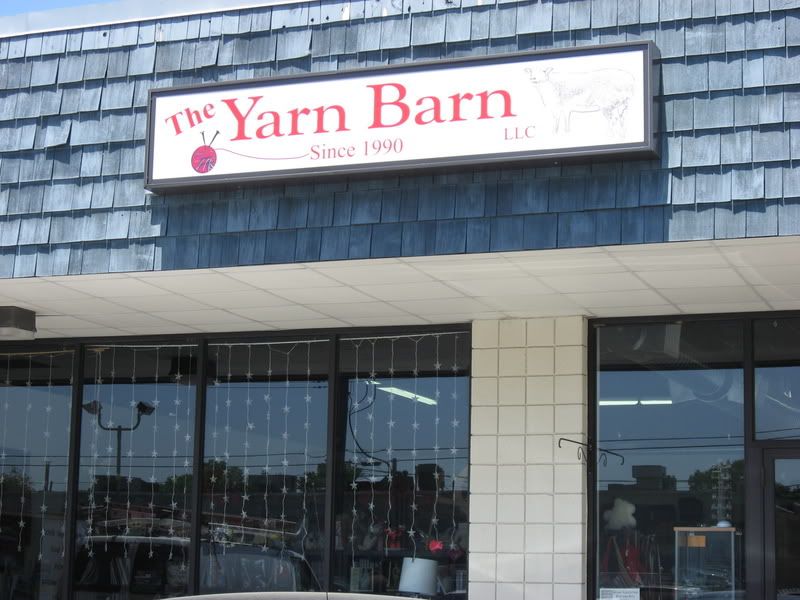 (Although props to them this was the most organized I'd ever seen the store.) We spent a lot of time looking around, especially for Crystal Palace Mikado ribbon, which Phyllis was hoping to get a peek at. While they did have the ribbon, not in the quantities or colors we wanted, but it was good to see none the less. I managed to be seduced by some very pretty 4 ply baby wool with the prettiest pastal colors. I've actually got sock plans for it- and I'm anxious to come up with a pattern for it.

We were also intrigued by their Regia Silk sock yarn collection and after digging through the baskets to the very bottom, (sadly mother-in-law didn't want pictures of us on the floor with our yarn mess spread out), we decided that we were better off not splurging like mad on the first yarn shop.

After we left the Yarn Barn, my plan was to head over to Yarns LLC, to admire the pretty store layout. Yarns LLC has their yarns organized by color rather than brand, and the store is absolutely lovely to behold. Upon arriving at Yarns, and scrounging for enough change for the meter, we were confronted with bad news.... THEY ARE CLOSED FOR THE SUMMER!
AND, as if to add insult to the injury, as we looked in the store's main window what did we see? CRYSTAL PALACE MIKADO RIBBON IN THE COLORWAY WE WANTED!!! So close and yet so devestatingly far away from our grasp. (Yes, there are two stores and I suppose we could have gone to the downtown location, but honestly, we just weren't feeling it- and I know for a fact they have less selection so no guarentee!)

Feeling dejected, we headed out on I-91, planning to make a stop in Wallingford for our next yarn binge. But first, we had to answer the siren call of Target- the only store that makes me as happy as a yarn shop.
We went in with pure hearts and plans to buy some food for the food donation at the Harlot event, and while we did manage to buy the food, we also both left with some cute shirts to wear . I suppose it's not illegal to look cute while donating to charity.

After our Target distraction we got back on the interstate headed for Wallingford and Country Yarns. Country Yarns is great becuase it has a vast selection- especially in novelty and ribbon yarns and I crossed my fingers that they might have the Crystal Palace we were in search of. While they didn't have Mikado ribbon, they did have Koigu at phenomenal prices. (At $9.85 it is officially the cheapest price I've ever seen on Koigu!) And Phyllis couldn't resist the Koigu anymore... she walked out with a lovely color way! I was also tempted by another colorway of Koigu, but I was over-come with a little guilt about my ever growing stash. (I did, however, find out that all yarns in the store will be 20% off on Saturday and Sunday and I'm VERY tempted to go back to the store and procure the Koigu this weekend. {I'm going to be on a very serious yarn diet already when I get back to Canada.})
After Wallingford-- we need to make time over to North Hampton for the second phase of our trip... the Yarn Harlot AND WEBS which is an experience unto itself and therefore deserving of a seperate blog post. (Besides... this is already biblical in length)