*Shout out to my fellow Star Trek geeks in the title!* Crystal... that means you!
There are sometimes when I'm not always sure my husband gets thes whole "knitting obsession" thing I've got going on. But despite not understanding the craze, he is quite supportive, even offering honest critiques and thoughtful praise on my finished items.
For example, once he honestly told me that the socks I made would have looked better if I'd used a simpler yarn. And, for that matter, he was right. He also was very proud of me for finishing the "Bit off more than I could chew" baby blanket and totally agreed that I should keep it for myself instead of giving it away. And, he loves doing a good old fashioned "sock photo shoot" for me when I ask. It's these honest feelings that I appreciate greatly, especially when I know he could say "that's nice" for every thing I finish and not really look or care about what I'm showing him.
There are also times when I KNOW that he's learning a lot more of about the whole knitting then than he lets on. For example, the other day we were in J Crew and they had some really cute bags there. Before I knew it, husband was behind me and suggesting I buy one, saying "that is the perfect knitting bag". And again, he was totally right. It was the perfect knitting bag, and despite the higher price tag, which would have deterred me, he pushed me to buy it. So I did! What I love is, HE suggested it would make a great knitting bag, without me even saying anything to him at all. MAYBE HE DOES GET IT!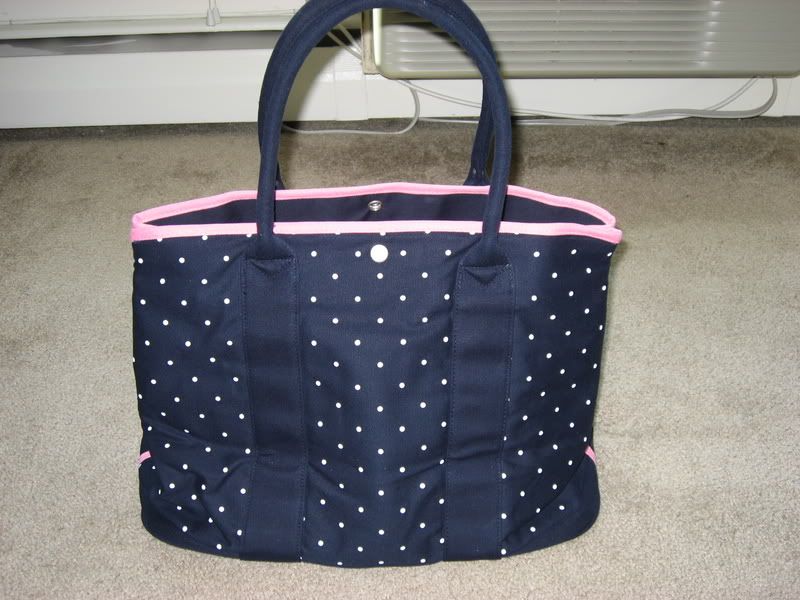 Viola! My cute new knitting bag- that will hold most of my projects and will make me look cute and stylish in the process. With this bag, I'll always remember that I "done good" when husband picking.
Also while shopping at Michaels, (alone- he's good, he's not a saint people), what caught my eye in the dollar bin was this cute little notebook with a sheep on it. I immediately thought to myself "that is perfect to store my knitting notes in" and so, without any guilt at all- (it's $1!!!), I bought one. (Phyllis do you want one? I can go back!)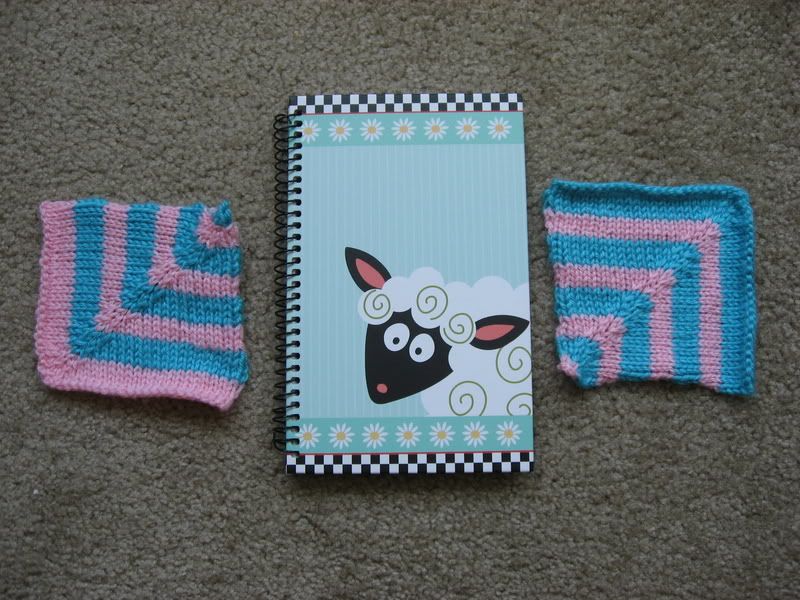 The little notebook is being modelling here with my first two miters that I made the other day to celebrate being done the baby blanket. Cute huh?
Even cuter?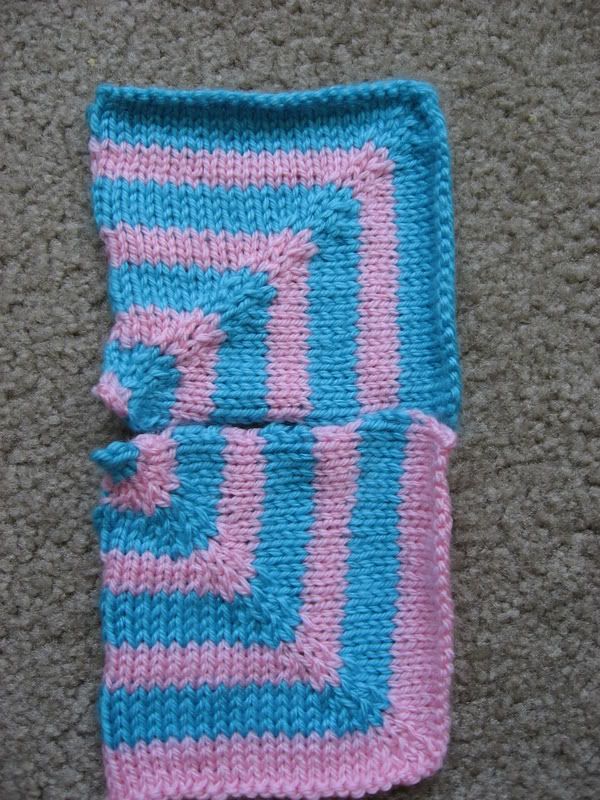 The miters lined up! The only change I'm planning to make to the pattern, (and remember this is an ongoing- no pressure project, I could finish this is 20 years for all I know), is that the very end color, the tiniest part, I'm not going to change the color. It's too much of a hassle and will probably make lining up things later a nightmare, so instead I'll just have a bigger color chunk in the middle of each "bigger square".
And... lastly, in this "little bit of everything" post- progress on the monkey socks is going swimmingly. I'm loving the new pattern and can see myself making MULTIPLE socks with it. Very, very good!