It's amazing how moving forces you to get organized- and OH MAN, I've been getting organized. Yesterday I took on the serious task of organizing all of my knitting stuff, getting ready for the packers. I had to take into consideration what I needed right away, and what I could wait for a month, as my movers aren't coming until August.
First I had to decide what books were going to stay with me on the drive up and what was going to get packed. Going through the books meant dealing with the 9,000 stray papers I had jammed in them and organizing them. Look what I did....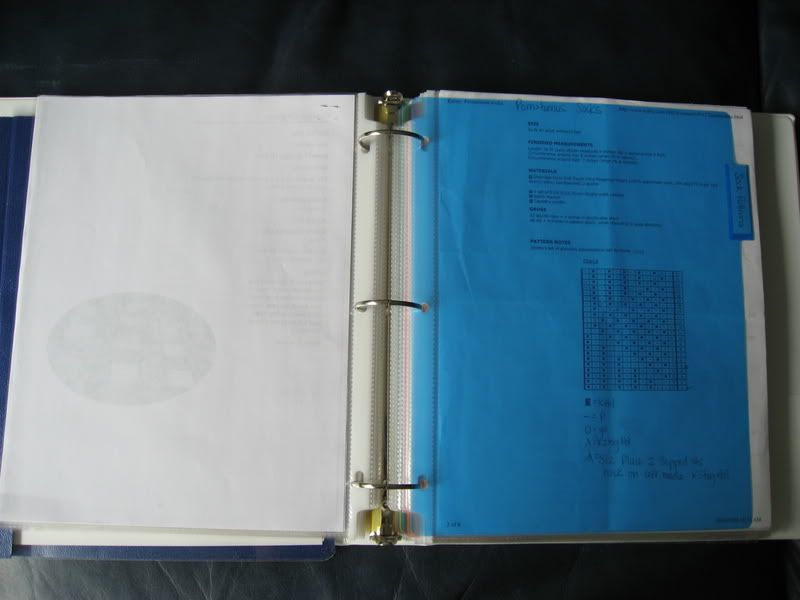 Yes, those are individualized, clear pockets for each pattern/chart and other thing I have written or printed off in the span of my knitting career. I can't stop flipping though the book and marvelling at how much more organized my stuff is!
Once paper shuffling/tossing/organizing was done, I had to move on to choosing what I was going to live without for a month and what I couldn't live without. Essentially I can liken this dilemma to deciding which child you love more. Do I love the pink Koigu or the purple Koigu more? If I take four socks worth of yarn is that enough? What if I get sick of knitting socks? Do I need other distracting projects? After deliberating for hours, and assuring each skein of yarn that we would be together soon, I decided upon the following "can't live without" items that should hold me until early/mid August.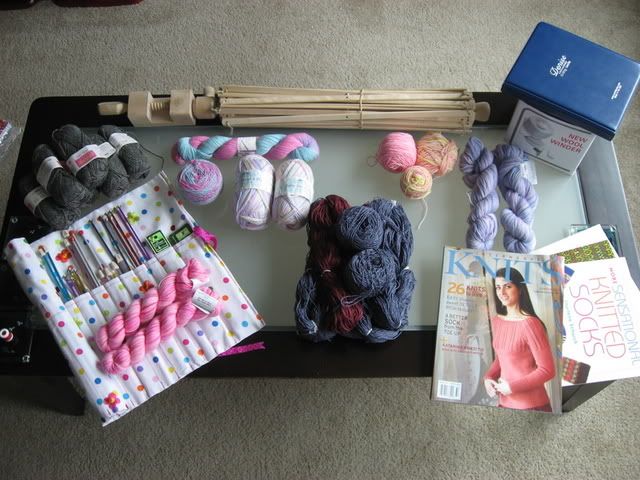 Oh yes... I'm bringing the swift and winder... I can't imagine having all those hanks and have to (gasp!), wind them by HAND. You wouldn't deny me the joy of swifting and ball winding would you?! I think not! What we're looking at here is yarn enough for four pairs of sock, as well as yarn for 1 pair of anklets. I'm also bringing all my needles, (because they pack so nicely, and whenever I don't have them with me, I need them), and the yarn for the baby sweater I want to make and of course, the yarn for the Nennie Sweater.
Speaking of the Nennie Sweater.... remember when it looked like this?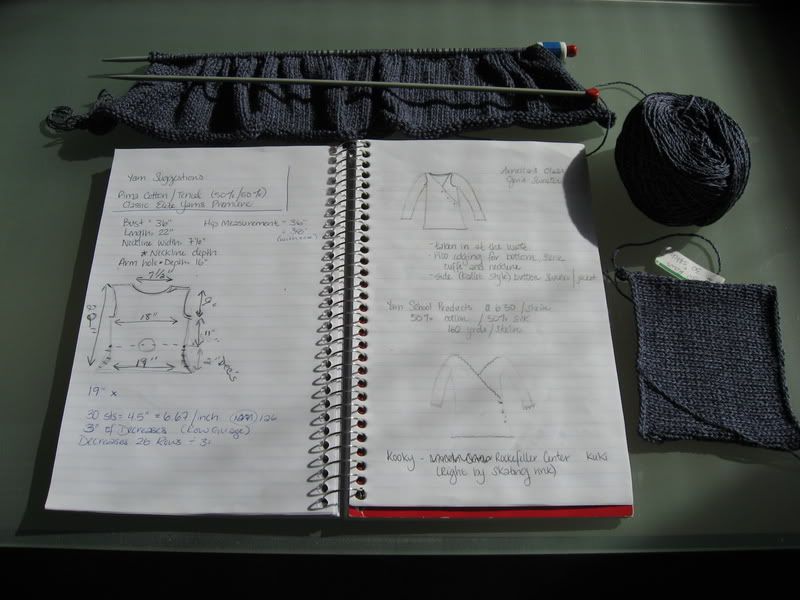 Now it looks like this.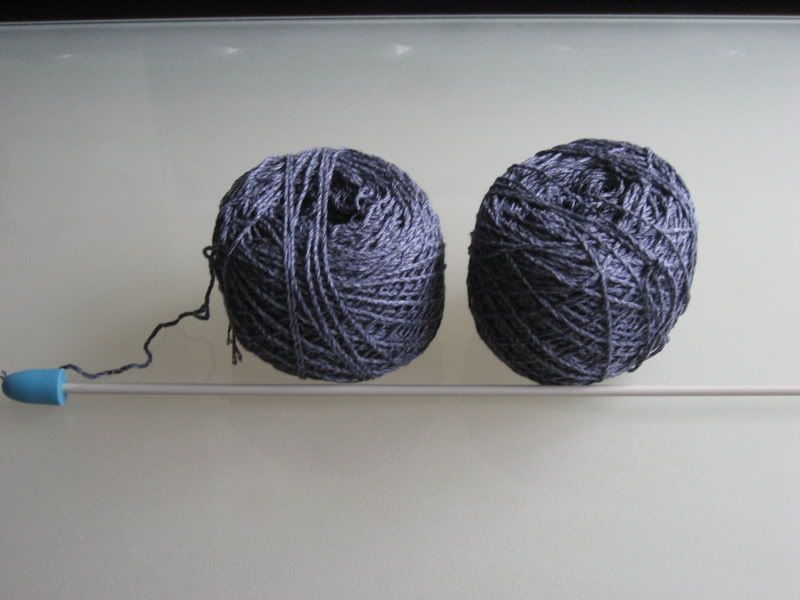 Yes.... I frogged- and there was a lot more on those needles... enough for almost an entire back! Since I wasn't going to make it back to my class in order to learn how to design the rest, I bought a pattern and re-purposed the yarn to make the pattern instead. It's the one the Harlot made recently- and while I hate the garter stitch border... I'm pretty sure I can come up with something different since the rest of the pattern is really quite cute.
And so... once I organized the papers, picked the "chosen yarn" and repurposed the other stuff, the only thing left to do was horde...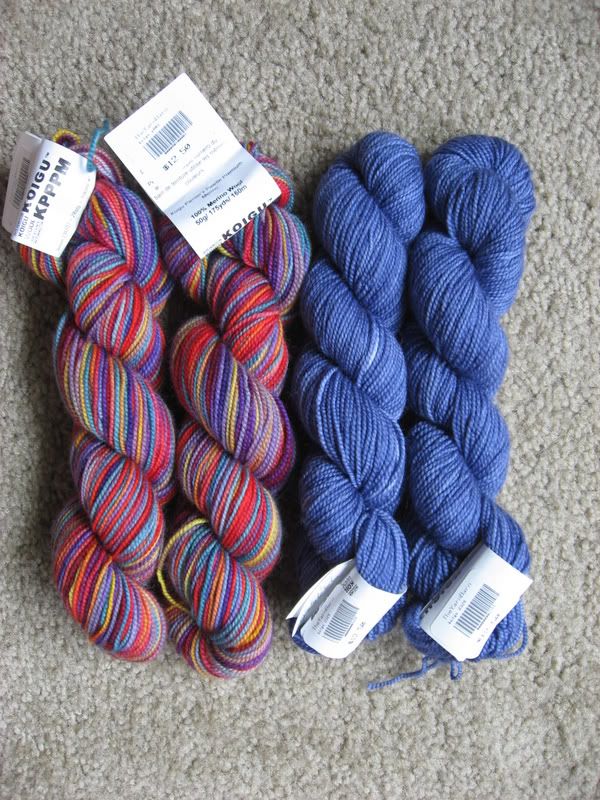 Yes... that's new Koigu, purchased on sale today at 10% off. This stuff goes strictly to the stash in waiting box- so I don't get my grubby little paws on it right away. I need to make the Koigu last... so hopefully this will tide me over until I'm back to the "Land of Koigu", er, the United States.
This also marks the official beginning of my heavy yarn diet. You know how people like to declare that they'd like to lose 5-10 pounds? My goal is lose one box. I've got 3 boxes, and I need to work it down a little. I'm officially declaring this the summer of "De-Stash" and my goal is to only knit with what I have, and refrain from anything until September. Can I do it? Will I crack? Only time will tell. (And blog posts where I openly discuss my pain and suffering.)
And last, but certainly not least... the monkey socks, which I've designated as my "drive home knitting". (Did I mention the drive was literally, FOUR WHOLE DAYS...)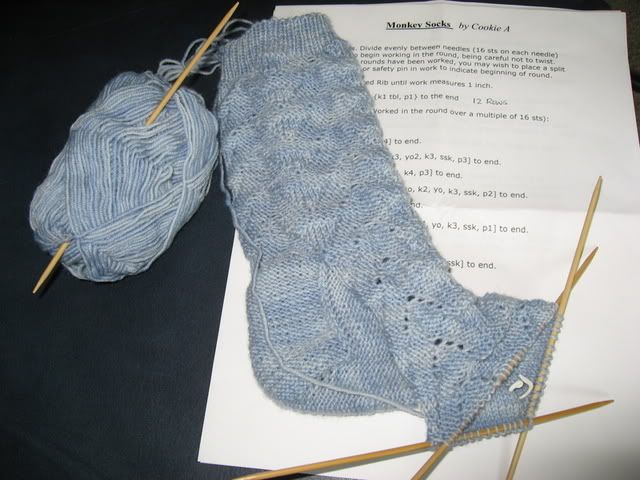 I'll probably finish up the first sock before we leave on Saturday, and never fear, if I finish the second sock in transit, the ankle sock yarn is in the wings waiting just in case. (I'm like the girl scout of knitting- always be prepared!)
Now that I've got the knitting organized, I only need to worry about the rest of the house. *sigh* I hate moving!
**A note... since moving and driving limit time for internet access, there probably won't be much action on this blog until mid July.... I swear to GOD though... I'm coming back!**